Inter-Pro Investigations
Port Jervis, NY
PRESS RELEASE
5/17/2006 6:50 PM

The suspicious death of a little boy named Gilbert Bonneau, who was 8-years old when he died on November 28, 1953 at an Albany Hospital, over 52-years ago, will be investigated by Augustine Papay Jr., a Private Investigator and retired New York City Police Homicide Detective.


William Bonneu and his family hired Mr. Papay, based in Port Jervis, NY to investigate and determine the cause of the child's death. At the time of his death, Gilbert was under the care and custody of St. Colman's Home for Children, a Catholic orphanage and home for children operated by the Sisters of The Presentation in Watervliet, NY.


The Bonneau family has been fighting a 28-year battle seeking the truth from the Catholic Church about Gilbert's death, amid allegations by various witnesses who came forward, claiming that Gilbert was first beaten on the head with a stick and then smothered with a pillow by an unidentified nun who was watching over him while he was crying in the home's infirmary.


Mr. Papay stated that he will start his investigation by reviewing the Gilbert Bonneau case files and by interviewing eyewitnesses who made claims of physical and sexual abuse that allegedly took place at St. Colman's around the time Gilbert was in their care. Mr. Papay is also appealing to the public and all former St. Colman's residents to come forward with any information by calling him at Inter-Pro Investigations @ 1-866-533-5099 or e-mail him: guspapay@gmail.com

Visit: www.justiceforgilbert.com
SNAP CONFERENCE SPEECH ON THE GILBERT BONNEAU CASE
Catholic church abuse: Criminal nuns and priests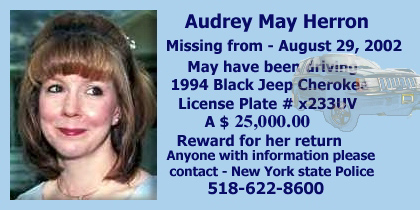 THE DETAILS
Audrey May Herron was last seen driving westbound on State Route 23 in the town of Catskill, New York, at approximately 11 p.m., on August 29, 2002. She had just left her job as a nurse at a local health care facility and was driving a 1994, Black Jeep Grand Cherokee with New York license plates reading X233UV.
REMARKS
Audrey May Herron was last seen wearing dark green medical scrubs and a blue turtleneck. She had on a yellow gold necklace with a pendant reading "#1 Mom", and a watch with a white leather band and a white metal face. Herron may wear eyeglasses. She has a mole on her right knee and a scar on the thumb portion of her hand.