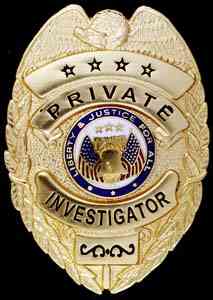 Our Investigative Mission

My goal is to seek the truth, the whole truth and nothing but the truth.
At Inter-Pro Investigations, our primary mission is to solve people's problems, be it personal or business. We reunite people with lost loved ones and we try to help our clients in their most difficult situations, even when they can't afford to hire us, because we know it's the right thing to do. When the Police are unable to solve an investigation, we can help the client who has been victimized. From domestic problems to business fraud to International cases, we step into the victim's shoes and go the extra mile until the job gets done right! We are a company that has proven capability to handle complex investigative assignments and we have compassion and understanding for people who come to us with personal or business problems. We are at your service 24 hours a day 7 days / week, because we know that difficult situations can occur at any time of the day.
Whether you are a private citizen, an attorney, insurance company, corporate or business owner, government official or a member of law enforcement, you can always call or write for a FREE confidential consultation. The goal of Inter-Pro Investigations is to help you find the answers to your problem and to seek a permanent solution so that you can have peace of mind.


Our investigators form a team of talented and motivated professionals who offer the highest standards of investigative service and integrity. We have a burning desire to be the very best in the business. Our goal is to ensure that the assignments we receive are expedited and are completed in a timely manner to the satisfaction of our clients.
We have a commitment to provide each client with excellent investigative services, innovation, diversity, creativity, honesty and integrity. Please read our Testimonials.
New York Magazine
Dedication * Professionalism * Integrity
Catching cheating spouses in the act, tracking down debtors and collecting evidence to assist a lawyer's case -- it's all in a day's work for a private investigator!
Private detectives and investigators gather information for businesses and individuals. They assist attorneys, businesses and the public with a variety of legal, financial and personal problems.

Most detectives and investigators are trained to perform physical surveillance, often for long periods of time. They also perform computer database searches that allow them to quickly obtain massive amounts of information.

They question suspects, catch culprits and file complaints about suspects with the police. As a result, they often testify in court.
Generally speaking, a private investigator is hired to obtain information regarding the identity, habits, conduct, movements, whereabouts, affiliations, associations, transactions, reputation, or character of any person or group of persons. A private investigator may also conduct investigations regarding the credibility of witnesses; the whereabouts of missing persons; the location of missing persons; the location or recovery of lost or stolen property; and the causes and origin of- or responsibility for- fires, libels, or losses. For further information about the NATURE OF THE JOB visit the US.Department of Labor.

THE PRIVATE INVESTIGATOR'S CODE OF ETHICS
To uphold and defend the United States Constitution to the best of my ability.
To perform my duties as a private investigator at the highest standard of excellence.
To always conduct my investigations within the limits of the law and to adhere to the administrative rules of the New York State Department of State Division of Licensing Services, which may apply to my profession.
To insure that each client is provided a clear description of the investigative and related services I provide, along with the usual and customary fees and expenses charged, and to provide an accounting of all fees, and expenses when asked to do so.
To refrain from accepting any assignment where a clear conflict of interest exists.
To never permit any personal bias or prejudices I may have interfere with the faithful discharge of my duty to my client(s).
To deal with my client(s) in an honest and forthright manner at all times.
To safeguard, to the extent provided by law, the confidentiality of my client(s) as well as confidential information which may come into my possession.
To never advertise or otherwise represent my services to my client(s) or the general public in a misleading or deceptive manner.
To always conduct myself in an honest, fair and ethical manner whenever engaged in the competitive solicitation of work.
To never directly or indirectly cause malice towards the personal or professional reputation of another private investigator or private investigative agency.
To take advantage of professional growth and training opportunities whenever possible.
To offer my assistance and guidance to colleagues who are new to the profession or who may otherwise benefit from my experience education and/or training.